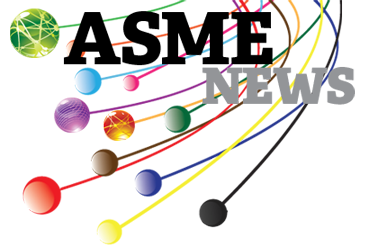 Jason Lopes, lead systems engineer at Legacy Effects, discussed 3D Printing in Hollywood during the keynote luncheon for AM3D, IDETC and CIE on Aug. 3.
Engineers from across a range of industries convened at the inaugural ASME Additive Manufacturing + 3D Printing Conference & Expo (AM3D) in Boston earlier this month to share strategies on how to use additive manufacturing beyond prototype development.
The conference was held from Aug. 2 to 5 at the Hynes Convention Center in collaboration with the ASME 2015 International Design Engineering Technical Conferences & Computers and Information in Engineering Conference (IDETC/CIE).
Altogether, more than 2,000 engineers, researchers, and government officials attended the event. Many attendees of the AM3D conference were from small- and medium-sized businesses that had not yet made the move to 3D printing.
Several sessions on the first day focused on the question of when it might be cost effective to use the technology. Zack Simkin, president of Senvol, described seven "supply chain scenarios" that can help inform that decision, and he analyzed case studies at GE and Johnson Controls.
(Left to right) AM3D panelists Joseph J. Beaman, Jr., Ph.D., professor of mechanical engineering, University of Texas at Austin; Chris Williams, Ph.D., associate professor , professor of Mechanical Engineering, Virginia Tech; Brent Stucker, Ph.D., co-founder, 3DSIM; David W. Rosen, Ph.D. professor of mechanical engineering, Georgia Tech; and Tim Simpson, Ph.D., professor of mechanical engineering, Penn State.
W. Daniel Fraser, Ph.D., who leads new business development at Fraser Advanced Information Systems, explained how to tally total costs of an Advanced Manufacturing (AM) center, by adding up material cost, maintenance, replacement parts, down time, material waste, post processing, and the costs of ancillary equipment.
A frequent message at AM3D was that design tools are now a bottleneck for the adoption of AM and are limiting existing process capabilities.
"Additive manufacturing has the ability to make complex shapes and to make multi-material shapes that current design tools are actually not well suited to design," said Brent Stucker, Ph.D., co-founder of 3DSIM, in a panel discussion called "Founders and Futurists." "So sometimes it is a lot easier to print out something than to design it."
Panelists agreed that engineers need very sophisticated tools. "If you think about Finite Element Analysis and design, one of the things you want is to do is try to bring some of the science decision making as far up the design path as you can," Dr. Stucker said.
Disclaimer: The opinions expressed within this article are the views of the writer and do not necessarily reflect the views and opinions of ASME.